Integrate Other Clouds with Dropbox for Business
Integrate Dropbox with SharePoint, Gmail and Other Clouds
Even if an organization relies on Dropbox for Business, employees will still use a variety of other cloud apps which makes data protection and collaboration a nightmare. How to integrate your email with Dropbox? How to integrate your company SharePoint with your Dropbox?


cloudHQ Can Solve These Problems for You:
cloudHQ can back up and integrate all your Google Apps emails or Office 365 emails with your Dropbox
cloudHQ can automatically sync Office 365 SharePoint with Dropbox team folders; which drastically improves your team collaboration.
cloudHQ can consolidate and back up all other cloud apps used in your org to your Dropbox.
cloudHQ can back up all your Dropbox accounts to Amazon S3 / Glacier or some other cloud storage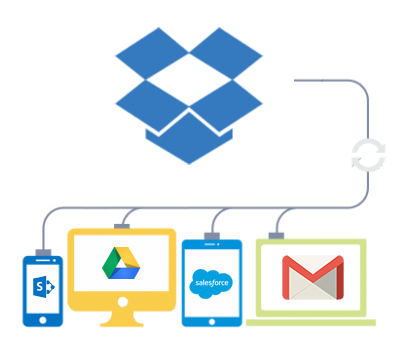 Back up

Dropbox to Amazon S3
Integrate

Gmail

with your Dropbox
Sync

SharePoint

with

Dropbox

folder
Integrate

Salesforce

with Dropbox
Integrate Evernote
Integrate Other Services
Back up Dropbox Accounts to Amazon S3 and Glacier
Real-time and continuous backup of all Dropbox accounts to Amazon S3 and Amazon Glacier.

cloudHQ backup will give you continuous and real-time data protection: Real-time data protection is backup of files, emails and other data by automatically making a backup copy of every change made to that data.

This means that cloudHQ is essentially capturing every version of your data - so nothing can be lost. It allows the user or administrator to restore data (or snapshot of your system) to any point in time. You can think about cloudHQ sync as a very powerful version of Apple Time Machine for your Dropbox domain.
Setup Now!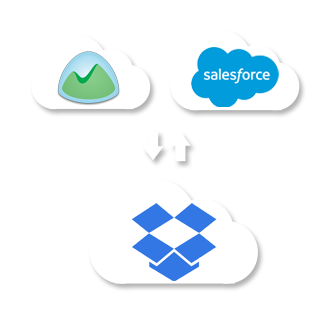 Integrate other cloud platforms
Many employees will end up using Evernote for quick notes, photos, audio clips, etc. On the other hand, some might use Google Drive for collaboration with clients and partners. And everybody uses Gmail. cloudHQ improves collaboration and simplifies file management:
Easily share a file in Google Drive with your team via Dropbox
Save your Emails to Dropbox, even from your mobile interface
Download and share Evernote notes to Dropbox
Real Time Data Protection
cloudHQ will create a complete, centralized, real-time backup of all cloud services and accounts used in the company to a central Amazon S3, Glacier, or Google Drive account. Since all changes are replicated in real-time, this backup copy can be also used as a fail-over cloud service.
All cloud data backed up in one searchable central location
Real Time means that changes will be instantaneously backed up and no data will ever be lost
Dropbox becomes unavailable you can failover to backup copy