Back up and Integrate Office 365
Back up Your Office 365 and Integrate It with Other Clouds
IT audits show that organizations with over 10 employees end up using multiple cloud apps: Evernote, Dropbox, etc. - with only a handful of them being approved and backed up by IT. Even if organizations solely rely on Microsoft Office 365 as their primary cloud platform, employees will still use other cloud apps to be more efficient. This makes back up of your data and collaboration a complete nightmare.

Furthermore, noted organizational theorist and sociologist Charles B. Perrow noted in his book "Normal Accidents: Living with High–Risk Technologies" that operators and the personnel handling data are the blamed for data loss 60-80% of the time.


cloudHQ Solves These Problem in 2 Major Ways:
We'll back up all your Office 365 email, Sharepoint sites, OneDrive accounts including other organization's files, notes and documents stored across various cloud services, and
Automatically integrate all apps used in your organization with your Office 365; which drastically improves your team collaboration.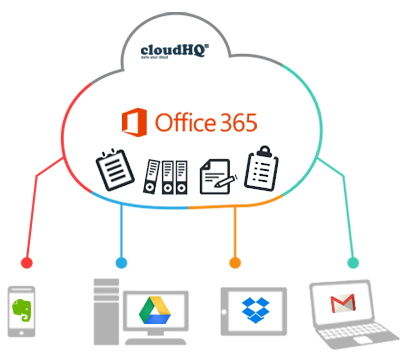 Back up

Office 365 to Amazon S3

Back up

Office 365 to Box, Dropbox, etc.
Sync

SharePoint

with

Dropbox

folder
Sync

OneDrive

accounts with

Dropbox

Integrate

Salesforce

with Office 365
Integrate

Office 365

with

Google Apps

Integrate

Office 365

with

Egnyte

Integrate Other Services
Back up Office 365 to Amazon S3 and Glacier
Real-time and continuous backup of all Office 365 accounts to Amazon S3 and Amazon Glacier.

cloudHQ backup will give you continuous and real-time data protection: Real-time data protection is backup of files, emails and other data by automatically making a backup copy of every change made to that data.

This means that cloudHQ is essentially capturing every version of your data - so nothing can be lost. It allows the user or administrator to restore data (or snapshot of your system) to any point in time. You can think about cloudHQ sync as a very powerful version of Apple Time Machine for your Office 365.
Setup Now!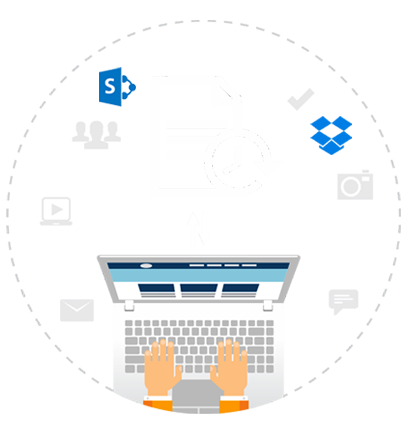 Real Time Backup of Office 365
cloudHQ can create a real-time backup of all Office 365 accounts and other cloud services and accounts used in your organization to your Amazon S3, Amazon Glacier, or other cloud storage. Since all changes are replicated in real-time, you can restore to any point of time - nothing is lost. These are the top 2 reasons to back up and consolidate all your data with cloudHQ:
Backup is under your control: All files, documents, notes, and other data from cloud apps are backed up in one central storage location which under your control
Nothing can be lost: Real Time means that changes will be instantaneously sync'd so all data will be backed up.
You can think about cloudHQ backup as a very powerful version of
Apple Time Machine
for your Office 365. Detailed instruction how to setup Office 365 backup to Amazon S3 or some other storage can be found:
here
The email backup can be in PDF, EML, HTML or TXT while file backups are in native format - so your backup can be used for archiving, surgical recovery, and also for reporting.
Setup Office 365 Failover
cloudHQ can create a real-time replica (copy) of all your Office 365 OneDrive, Mail accounts and SharePoint document libraries in G Suite. So each of each of your employees will have an exact copy of their OneDrive or email account in Google G Suite. Since all changes are replicated in real-time, your replica in G Suite can be also used as a solid, secure, and bulletproof failover solution. .

So if your Microsoft Office 365 service is temporarily unavailable, you easily can failover to G Suite in a matter of seconds.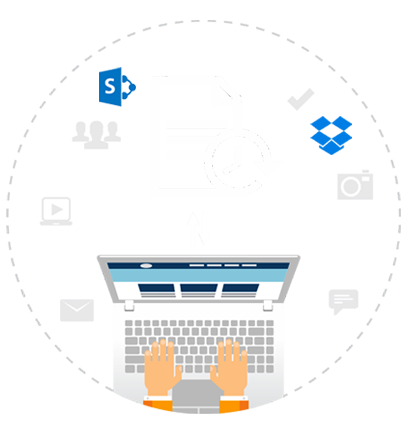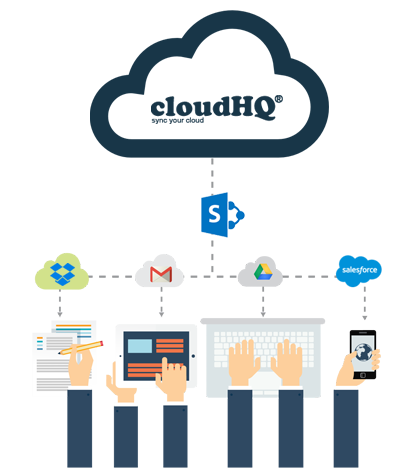 Integrate And Consolidate Other Cloud Apps
cloudHQ can improve team collaboration by intelligently formatting the information in all of the different apps used in your workplace and consolidating it your central Office 365 SharePoint site or users' OneDrive account. So employees can use virtually any platform where they feel like their most productive selves.: and eveything will be still replicated to your Office 365.

For example, most organizations hire contractors of some sort: designers, lawyers, media relations, and so on. In this case, you'll need to provide folder access to that contractor to give him or her sufficient background information to complete the task at hand, and also so that the contractor can share their work back with you. These contractor will user their own cloud accounts and cloud service: and cloudHQ can ensure all data which stored outside your Office 365 gets contolidated and integrated with your Office 365.