Backup, migration, and sync for Dropbox
Back up Dropbox

Migrate to Dropbox

Sync Dropbox folders with other cloud services
What's the importance of backing up Dropbox?
Acclaimed organizational theorist and sociologist, Charles B. Perrow, suggested in his book "Normal Accidents: Living with High–Risk Technologies" that 60-80% of data loss instances can be attributed to operator and personnel errors.
This implies that data can be unintentionally deleted, and recovery options like 'trash' or 'history' may not always help as they can also be mistakenly removed by users.
Considering a Migration to Dropbox?
Allow cloudHQ to undertake your email and file migration while you enjoy a hassle-free transition.
Migrating to Dropbox for Business with cloudHQ ensures that not only is all data transferred, but also sharing metadata from other cloud configurations like Google Workspace, Egntye, Box Business or Box Enterprise, and Dropbox Business. For instance, if a folder has sharing permissions, cloudHQ will also transfer details regarding which team members can access the folder and the extent of their access; emphasizing the crucial role of sharing metadata in your migration.
The migration to Dropbox with cloudHQ is continuous and in real-time. This implies that there's no need to cease using your existing cloud service during the transfer process until you're prepared to switch. cloudHQ will ensure that all changes made on your old cloud service (Microsoft Office 365, Box or G Suite) are automatically reflected in Dropbox.
Need to synchronize your Dropbox folders with other cloud services?
IT audits reveal that companies with more than 10 employees tend to utilize multiple cloud applications like Gmail, Dropbox, etc. Moreover, most communication with customers, partners, clients, etc., is conducted via email.
Hence, even if your organization predominantly relies on Dropbox as the primary cloud platform, employees, clients, and partners may continue to use other cloud apps for efficiency. This can cause collaboration issues and impact productivity. cloudHQ is the solution: we can sync data from other cloud services with your Dropbox folders.
Back up Dropbox to Amazon S3
Migrate to Dropbox
Sync Dropbox with other cloud services
Auto-save Gmail emails to Dropbox
Back up Dropbox to Amazon S3 and Glacier (or other storage)
All Dropbox accounts and team folders are backed up to Amazon S3 and Amazon Glacier in real-time and continuously.

cloudHQ backup offers you constant and real-time data safeguarding: Real-time data safeguarding ensures backup of files, emails, and other data by instantly creating a backup copy whenever changes are made to the data.

In essence, cloudHQ captures every version of your data, ensuring no data loss. It empowers users or administrators to restore data (or a snapshot of your system) to any previous point in time. Consider cloudHQ sync as a highly robust version of Apple's Time Machine designed for your Dropbox.
Setup Now!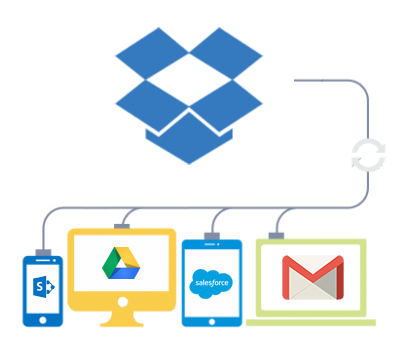 Integrate other cloud platforms
Many employees will end up using Evernote for quick notes, photos, audio clips, etc. On the other hand, some might use Google Drive for collaboration with clients and partners. And everybody uses Gmail. cloudHQ improves collaboration and simplifies file management:
Easily share a file in Google Drive with your team via Dropbox
Save your Emails to Dropbox, even from your mobile interface
Download and share Evernote notes to Dropbox
Real Time Data Protection
cloudHQ will establish a comprehensive, centralized, real-time backup system that encompasses all cloud services and accounts utilized by your company, storing the data in a core Amazon S3, Glacier, or Google Drive account. Given the real-time replication of all modifications, this backup copy serves as an immediate fail-over option for cloud services.
All cloud data is consolidated in a single, searchable central repository for ease of access and management
Real-time backup ensures instantaneous replication of changes, thus eliminating the possibility of data loss
In case of a service disruption in Dropbox, the backup copy acts as an immediate failover, ensuring uninterrupted service