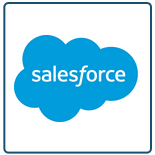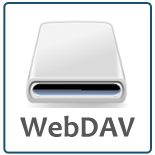 Sync Salesforce with WebDAV
Click here if you don't have a Salesforce Account.
Using cloud applications to manage data, share information, and collaborate is now common practice for businesses. While these services provide an opportunity to gain simplified, secure access to files or documents from any location, they lack the integration capabilities businesses need to accomplish seamless collaboration! Do you use WebDAV to store important information that Salesforce users need to view? How is this data currently accessed from users of each cloud service? The task, while accomplishable through development, does not have to make pulling teeth seem more appealing. cloudHQ makes it easy to sync Salesforce with WebDAV for dependable integration of important notes, opportunities, files, and documents! Flawless Cloud Application Integration With the number of applications made available to manage information "in the cloud" for easy accessibility and backup storage, one important piece of functionality has been difficult to gain. Many apps do not allow for multiple account logins on the same computer nor do they provide an option to synchronize accounts for the same service. If the goal is to share files between multiple cloud applications, the options are indeed limited. cloudHQ delivers the integration necessary to gain these capabilities through cloud apps such as Salesforce and WebDAV! It offers these benefits: • Seamless Collaboration • Real-Time Access • A Complete Backup Solution • No Format Limitations • Easy Cloud Service Management • Flawless Integration • Helpful Reporting Features If collaboration seems to be a troublesome due to the use of multiple cloud services, cloudHQ can help! With minimal configuration steps, you will be able to view, update, and share important notes, opportunities, or documents from either service in real-time. We Keep It Simple, So You Remain Focused On Core Business Tasks! cloudHQ delivers a well-designed replication solution for syncing Salesforce with WebDAV. The result is real-time access of data from either service regardless of what account you are using. It is sharing made simple through flawless integration! All you need to do is create an account and choose the files or directories to synchronize. We take care of the rest in the background to ensure all changes and new files are instantly viewable from either account. Say goodbye to the trouble of emailing notes or documents and determining how to load information between accounts. By choosing cloudHQ to sync Salesforce with WebDAV, you can easily view documents from either cloud app without worrying about the format or if the information is current. We perform the necessary replication and synchronization tasks, so you can collaborate better and stay focused on what matters the most! Ready to make "the cloud" work for your business?
As an added bonus, your data is confidential because we use state of the art security protocols. We insist on maintaining multiple levels of security to protect and backup your files.

We already sync over 10,000,000 files a day, so join the "bring your own service" revolution and start syncing your data now!