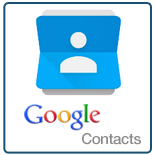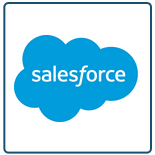 Sync Google Contacts with Salesforce
Click here if you don't have a Google Account.
cloudHQ Can Reliably Sync Google Contacts with Salesforce
We've all been there, an important lead or connection is stored in one cloud service, but desperately needed in another to be viewed and updated by the whole team. Do you use Google Contacts while colleagues use Salesforce to manage this important information? If so, then having a way to view the most up-to-date contact information between services is essential. The trouble is that these two services do not communicate together without some type of integration.
Manage Contacts Better with cloudHQ
cloudHQ is an easy-to-configure solution when you want to sync Google Contacts with Salesforce. You can create two-way or one-way sync:
One-way sync from Google Contacts to Salesforce: any new contact added to Google will be automatically added to Salesforce
One-way sync from Salesforce to Google Contacts: any new contact added to Salesforce (and updates of these contacts) will be automatically added to your Google Contacts
Two-way sync between Salesforce and Google Contacts: contacts added to Salesforce will be sync'd to Google and vice-versa
How does it work and what are the benefits, you might ask? cloudHQ performs real-time replication of Google Contacts with your Salesforce. With cloudHQ, you gain:
Up-to-Date Information: nothing is lost
Real-time Access
An Easier Approach to Contact Sharing
Centralized Connection Management
These processes occur continuously in the background so that you instantly have access to accurate contact information from both services. For example, if a new contact is added to Google Contacts, this information will immediately be synchronized to Salesforce. On the same note, any changes made to this information are readily available in both services when you sync Google Contacts with Salesforce.
The full scale value of our Salesforce sync is an immediate ROI. Most integrations with Salesforce consist are very complex to set up and they cost a small fortune. Not with cloudHQ. The setup is 5 minutes and our
pricing
is more than affordable.
As an added bonus, your data is confidential because we use state of the art security protocols. We insist on maintaining multiple levels of security to protect and backup your files.

We already sync over 10,000,000 files a day, so join the "bring your own service" revolution and start syncing your data now!