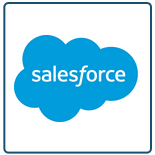 Sync Salesforce with ...
Click here if you don't have a Salesforce Account.
Sync Your Salesforce Accounts, Opportunities, Files, ...
The full scale value of our Salesforce sync is an immediate ROI. Most integrations with Salesforce consist of documents from cloud storage solutions to be accessible within the Salesforce app. While it may be helpful to have documents so quickly, this approach has many disadvantages. It does not work if you are using mobile app (files are not accessible via Salesforce mobile app), search via Salesforce is not possible (since these documents are not indexed by Salesforce), and important information is scattered over many different cloud services and might be lost (some account info is in Salesforce, some files are in Box, maybe deleted by mistake, etc.), etc.
cloudHQ offers an actual
full synchronization and integration
between Salesforce and your favorite cloud storage: the data you have in Salesforce is fully replicated to your cloud storage or cloud apps such as Dropbox, Box, Evernote, Google Drive, etc. And since our sync is two-way all changes you do in your cloud storage will be replicated to Salesforce.
A synchronization allows you to:
Access your real-time Salesforce Accounts, Opportunities, and Chatter Files from your cloud storage (and that could be Dropbox, Box, Egnyte, Google Drive, Sharepoint, etc.). This integrates Salesforce into your cloud seamlessly.
Share your Salesforce Accounts, Opportunities, and Chatter Files with others, and give them read only or editor rights via other cloud apps (Box, Egnyte, Google Drive, etc). They can edit and view these files and that gives huge improvement in collaboration - especially between team memeber who use Salesforce and team members who may not have access to Salesforce, but who are working on a common project.
Have a safe backup of all your Salesforce information in cloud storage solutions, with archive folders setup automatically prior to any data changes.
Upload files, add notes, etc into Salesforce by just creting files in your cloud storage account.
As an added bonus, your data is confidential because we use state of the art security protocols. We insist on maintaining multiple levels of security to protect and backup your files.

We already sync over 10,000,000 files a day, so join the "bring your own service" revolution and start syncing your data now!