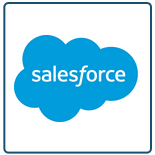 Backup Salesforce to ...
Click here if you don't have a Salesforce Account.
Backup Your Salesforce Seamlessly
If you're looking for a reliable backup of your Salesforce Accounts, Opportunities, Leads, Salesforce Files, etc. look no further. We provide a one-way synchronization so that you can backup your Salesforce to other cloud services like Dropbox, Box, Egnyte, Google Drive, Sharepoint, and others. In real-time.
Having a central data location of all data in your company is mission critical to its success, and we understand that. Once you set up your one-way sync, it runs continuously and in real-time. You will never need to schedule any kind of tedious backup ever again. Your most up-to-date Salesforce data will automatically be in the cloud app you choose to sync it to.
Welcome to true "Set it, and Forget it" service!
As an added bonus, your data is confidential because we use state of the art security protocols. We insist on maintaining multiple levels of security to protect and backup your files.

We already sync over 10,000,000 files a day, so join the "bring your own service" revolution and start syncing your data now!